Manitex Valla is launching two new pick and carry cranes this autumn as it continues to transform its range – with models that are more compact, more powerful and more sustainable than ever before.
It means Hird, the UK and Ireland distributor for Valla Cranes, can supply its customers with even more of the world's most capable new generation electric mini cranes.
Wireless remote control
The new pick and carry cranes are the 4.6t Valla V46R and the 13t Valla V130RX pick and carry cranes. Both are wireless remote controlled for drive and lifting functions, a key reason the cranes can be as compact as possible.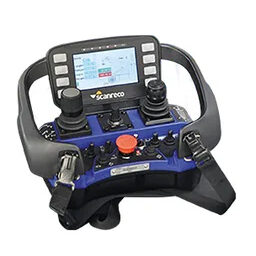 Valla V46R pick and carry crane
The Valla V46R has a maximum safe working load of 4.6t, which can be achieved at a height of just over 4 metres just beyond the front bumper.
The mini crane's three-section boom extends to a length of 7.5 metres, and capacity at full working height is 2.45t. The crane can also be fitted with a short luffing jib.
The Valla V46R's maximum reach is 4.5m, at which point it has a SWL of 660kg.
Lithium battery option
As with most other Valla pick and carry cranes, the Valla V46R is front wheel drive and rear wheel steer. It sits just 900mm wide, 2.47m long and 1.56 metres high. It weighs 4.33t, with a total counterweight of 900kg.
Standard features include a variable tilt head and non-marking tyres. Optional features include, ATEX explosion proofing and lithium battery pack, along with the winch, and a fold-away hydraulic luffing fly jib.
Valla V130RX pick and carry crane
The Valla V130RX pick and carry crane has a telescopic chassis (the X stands for extending). This means it is just as compact as its sister crane, the 11t Valla V110R when stowed.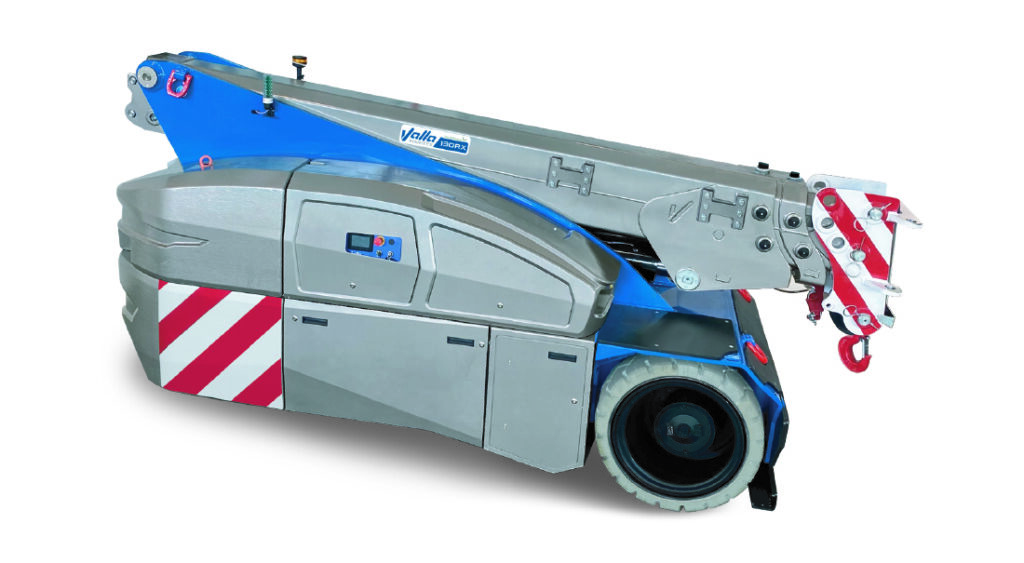 Hydraulic boom
With the rear element of the chassis extended by 700mm, taking the crane length to 4.4 metres, it has a SWL of 13t. Its three-section boom extends to 10m, to which can be added a hydraulic luffing jib.
Capacity at full height is 7t. Operating at its maximum reach of 6 metres from the front bumper, the SWL is just over three tonnes.
The crane also has a variable tilting head to further improve head room and non-marking tyres. It is also fitted with a front stabiliser to enhance lifting capacities.
The Valla V130RX pick and carry crane is 1.5m wide. Its stowed height is 1.95m. The crane's dual counterweights can be removed to reduce weight while operating across low load bearing floors.
Additional accessories include self-levelling forks, a fold-away hydraulic jib and a winch.
For extra safety, all new Valla cranes are fitted with LED warning lamps, blue at the front and red at the rear.
Autumn launch
The two cranes are just the latest addition to the Valla range. They join the recently announced 7t Valla V70R pick and carry crane and the new 10t Valla V100RX.
The latter, as its moniker indicates, also has an extending chassis to combine maximum lifting power with maximum compactness when the crane is on the move.
The Valla V46R and the Valla V130RX pick and carry cranes are due to be launched at the GIS lifting exhibition in Piacenza on 5-7 October 2023.
Find out more
Talk to Hird about these exciting new Valla cranes and all other cranes in the Valla range.
We supply all Valla cranes in the UK and Ireland, and Valla cranes for use in aviation maintenance environments around the world.
Telephone: 01482 227333. Email: [email protected].